It's five o'clock on a Friday as I walk in to meet Chris Fagan and Ross Bates, two of the leading figures behind Key Ring — the mobile loyalty solution that allows users to scan & store existing loyalty cards, enroll in new loyalty programs, and access exclusive coupons and discounts — all for free.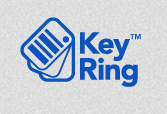 In October 2008, Chris Fagan began working on a patent for a coupon idea when he saw a real opportunity in consolidating the proliferation of rewards cards electronically. With the upcoming release of the Android mobile operating system, he quickly hired a developer to build the first version of Key Ring. The mobile app was initially released in June 2009 on the android platform. Ten months later, Chris partnered with Ross Bates to further grow Key Ring's capabilities — a move that has been proven successful through the dramatic rise of its user base.
Seeing its promise, Chris decided to leave the comfort of a regular paycheck, and dedicate all his efforts to making Key Ring a success. After exhausting a good portion of his own capital, he decided to apply and was accepted to be a part of the inaugural class of Tech Wildcatters, the startup technology incubator based in Dallas, TX. With Tech Wildcatters, the team was awarded $25,000 in seed money, and mentored over a 12-week period under various entrepreneurs and venture capitalists. At the conclusion of the 12-week period, the team raised $1.75 million in funding from Austin Ventures.
Throughout that time, Key Ring developed dramatically. The team released an iPhone app just ten months after the initial Android release, and launched their 'Key Ring Card Manager' platform as well. With the Card Manager, users can go to my.keyringapp.com to add,edit, and delete their rewards cards. In addition, users also have the ability to customize card logos, share cards with family members, and print their cards including the barcodes. The value of such efforts have been affirmed as Key Ring now boasts millions of users, while maintaining comprehensive loyalty programs for hundreds of companies.
Moving forward, the company will use their funding to accelerate growth; including the launch of an app for the Windows 7 operating system, and a gradual expansion of their development and sales teams — job openings here.
As for the startup community, he believes that Dallas entrepreneurs are not getting the attention they deserve, however acknowledged that the entrepreneurial culture could be improved. Programs such as Tech Wildcatters and facilities such as CoHabitat are helping lead the charge to put the Dallas entrepreneur scene on the map.
To learn more about how to download the Key Ring app for free, click here. To learn more about their offerings for business, click here.