It's been a couple of weeks since I kicked off my quest to find out where the tech talent is in Chicago, Chicago Tech Talent: The Series. While I've made some progress but there is still work to be done and people to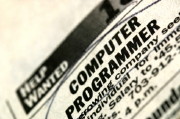 meet.
On Wednesday October 12, I will be attending "High Tea" at i.c.stars and will report back on what their program offers to Chicago start-ups. I also spoke with the SassyCEO Marian Mangoubi a few weeks ago who subsequently turned me on to several additional resources that I will be exploring. Thanks to i.c.stars and SassyCEO for their time and input.
How about something more concrete?
Last Friday I attended a panel discussion called "Tech Talent in Chicago: Where and How Sizzling Startups Are Finding Interns, New Grads and Seasoned Pros" hosted by DePaul University's Coleman Entrepreneurship Center. The event was part of Crain's Small Business Week. The panel was moderated by Adam Robinson, CEO of Hireology and included the following panelists:
Chad Cooper — CTO, GrubHub
Sarah Highstone — Career Advisor, DePaul University
Reid Lappin — Founder/CEO, VOKAL Interactive
Carrie McComb — Technical Recruiter, Groupon
Steve Farsht — Excelerate Labs
You can see their bios here.
This is the type of event that would benefit both entrepreneurs and people looking for opportunities at startups.  The discussion was insightful and confirmed one of my assumptions about tech hiring in Chicago.  While it may seem obvious, there are different issues facing startups in Chicago based on the company's life stage. The problem that GrubHub and Groupon have is to match skill set and company fit with the myriad of job applicants. Similarly, smaller companies need to match skill and fit, but without name recognition they also face the issue of getting people to apply in the first place. This is an issue without even considering the differences in compensation and risk. Given this distinction, I'll be focusing on the issues facing the smaller, less well known companies.  Sorry GrubHub and Groupon!
So what is the answer?
I'm still working on that but I did walk away from the panel discussion with some good ideas for startups looking for tech talent:
If you are looking for current college students or recent grads, go directly to the career services teams at the schools of your choice. They are on the front line of finding young technologists jobs and have easy access to both students and their school's alumni. Reid Lappin had a couple of interesting methods for attracting tech talent to VOKAL:
Always be recruiting! Reid mentioned that he dedicates a fixed percentage of his time to recruiting in an ongoing method.  This allows him to see more people over the course of time and identify who that next hire should be when business needs warrant additional headcount.
Get creative with compensation. Reid discussed a "Phantom Stock Program" that he set up for his employees.
Set up an apprentice program to allow younger developers to learn from the team in place.
One other approach that Reid discussed was going to the schools and actually teaching a course, which he does at DePaul. Class projects can be directly beneficial to the company and they let the startup see a student's skills up close. This approach can help establish a pipeline of potential developers for any company that goes down this path.
While I haven't answered all of the questions floating around regarding tech talent, especially those related to finding more experienced developers, it is a start.  Like most things, your reward results from the time and energy you put into it.  It's easier to shoot fish in a barrel than it is to cast random nets across a wide body of water. The bottom line is you need to identify your need and concentrate your efforts on the parts of the Chicago startup scene where you can find that specific talent.
Stay tuned for more updates and thoughts on finding that experienced developer or tech co-founder.
[Image sources: Rhys Asplundh, Xconomy and Fastweb.com]