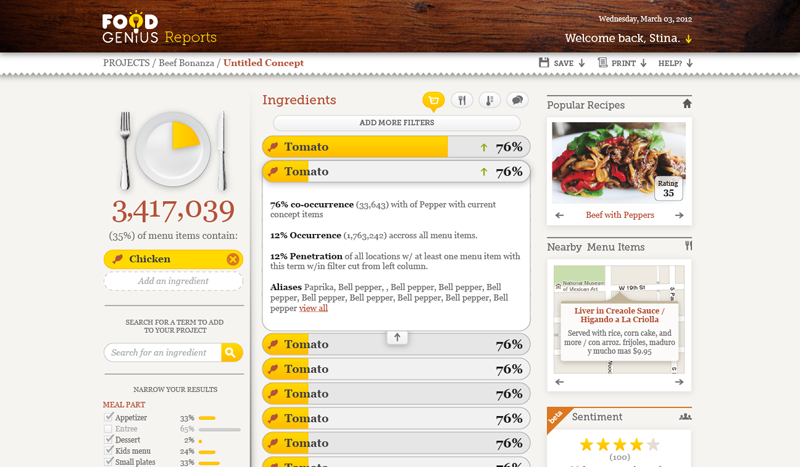 Food Genius, a Chicago-based data collection startup for the food industry, announced today that it has closed a $1.2 million round of fundraising led by Hyde Park Venture Partners and Hyde Park Angels. The investment marks the first since the company's seed round last June, when it received $75,000 from Chicago's Excelerate Labs during its run in the three month accelerator program.
According to co-founder and CEO Justin Massa, the company will use the funds to expand its team, hiring new members specifically to work on rolling out its Food Genius Reports feature. The reports allow restaurants to follow industry trends and improve their businesses by finding out which foods their customers like best.
"Food Genius is a leap forward for the food industry, providing intuitive and deep access to restaurant trends as they develop and craft marketing strategies," Massa said in today's press release.
Hyde Park Angels' Owen Shapiro and Brian Distelburger of location data company Yext will join the Food Genius board of directors following the recent investment. The company additionally announced new data partnerships with CHD Expert and Chicago's online food ordering service GrubHub.
Chicago mayor Rahm Emanuel sees the success of Food Genius as direct evidence of improving job creation and economic growth in the Windy City. "Entities like 1871 and Excelerate Labs play crucial roles in the development of these young companies, and I am pleased to see an environment developing that supports entrepreneurship and business expansion," Emanuel said. "I look forward to many more small businesses developing out of these facilities and programs, and fueling Chicago's economy in the coming years."
Food Genius currently tracks more than 16.3 million food items on 230,000 menus in over 450,000 restaurants around the United States. With the help of the recent investment, the Chicago data company is aiming to bring the final version of its Food Genius Reports to businesses by winter next year.