Winestyr, an ecommerce startup based in Chicago that sells wine directly from small wineries to consumers, launched its marketplace this week.
Rather than featuring old standards like Mondavi and Stag's Leap, Winestyr is going after the smaller wineries that produce craft wines in smaller batches. "We comb the country to find great craft wines and tell the story of each wine we feature," notes the team. Winestyr is innovating on price and distribution before they look toward implementing a recommendation engine next year. Right now, the key value for consumers is that the site helps cut out the wine distributor and retailer, allowing you to buy directly from the wineries.
This is the perfect time for a company like Winestyr to launch according to VP of Product and Marketing Pooneet Kant, thanks to the deregulation of wine distribution that the US Supreme Court decided on in 2005. "That decision made it possible for wines to ship directly to consumers in 20 states. Now you can ship to 40 states, so it's the right time for us to enter the marketplace," said Kant.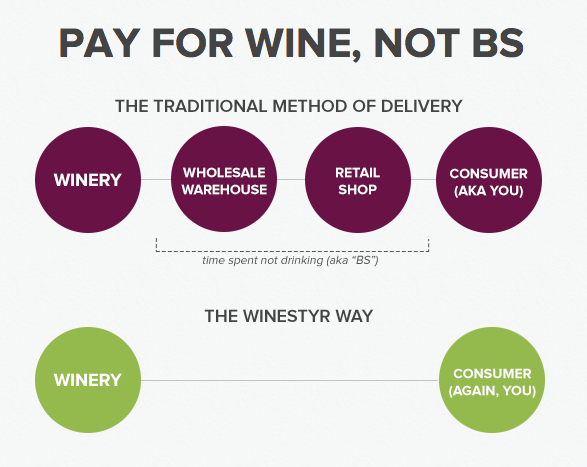 The company launched their minimum viable product in January of this year, a voucher program for consumers to pay for wine vouchers that they would then redeem in the winery's website. The idea garnered enough interest from both oenophiles and winery owners to move forward with their larger vision.
The team is stacked with wine industry and sales veterans, including Scott Washburn, Director of Sales and Business Development and an early employee at Groupon in Chicago, and Bob Wilson, the CEO and co-founder who formerly worked in the wine distribution industry. Pooneet Kant, quoted above, is a former investment banker who has worked for a Y Combinator-backed startup, and at a winery in Napa Valley. Kant also has a MBA at the Chicago Booth School of Business. John Wilson, Bob's brother and the COO and co-founder, is a legal expert who makes sure that Winestyr complies with the tricky American liquor distribution laws. Rounding out the team is CTO Mark Glen.
The team raised a seed round of $550,000 earlier this year, and plans to offer exclusively American wines before expanding into international markets.