Entrepreneurs seeking mentorship will have the chance to meet up with some of the biggest minds in the Chicago startup community over the next year thanks to a new initiative at 1871. In a partnership between Built in Chicago, the Chicagoland Entrepreneurial Center, and Excelerate Labs, entrepreneurs can sign up to pick the brains of founders and CEOs during a series of Digital Leaders office hours hosted at the city's largest startup coworking space.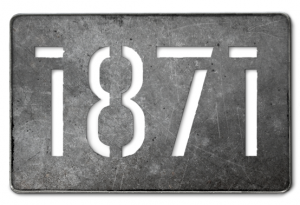 The office hours will begin on the eighth of November and continue through December, with more dates to be announced next year. Entrepreneurs are encouraged to align the issue they're looking for advice on with the appropriate mentor when they sign up for their 30 minute one-on-one session. Participating mentors include Excelerate Labs CEO and co-founder Troy Henikoff, GrubHub CEO Matt Maloney, and Amanda Lannert, CEO of the Jellyvision Lab, among many others.
Meetings are scheduled for three dates throughout November and two more in December, with more to follow into next year. Entrepreneurs will have the opportunity to meet face-to-face with their scheduled mentors at 1871 between 9 am and noon during the current round of office hours.
"We believe a significant reason (among many others) for Chicago's uptick in entrepreneurial activity over the past few years is the increase in mentorship," wrote Built in Chicago president Maria Katris. "Between the launch of Excelerate Labs, the CEC's continuing involvement in connecting mentors to entrepreneurs, and many other programs, Chicago startups are now surrounded by a safety net eager to support and ensure their continued success."
Interested entrepreneurs can sign up for upcoming slots using Ohours, and should jump on the opportunity ASAP, as many sessions are already filling up fast. Digital Leader office hours will continue throughout the year, so stay tuned to Built in Chicago's Twitter feed to keep on top of upcoming announcements.