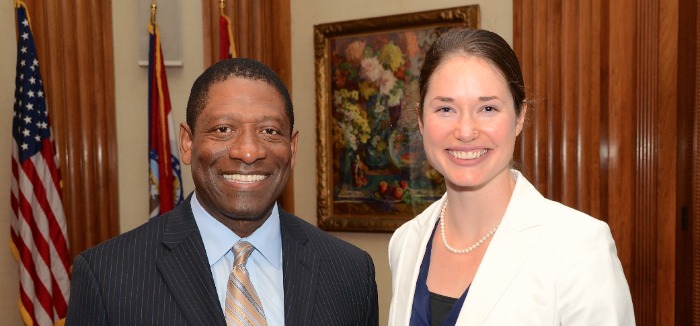 The city of St. Louis is betting that the time is now to turn the city into an education hub. Thanks to a new commitment to fund two educational reform-focused Arch Grants by the John C. and Mary Kaye Fort Family Fund and St. Louis Regional Business Council (RBC), St. Louis is one step closer to becoming America's thought leader on the future of education.
Over the next three years the RBC is committing a total of $75,000. John Fort, the co-founder of Social Venture Partners (SVP), on behalf of the John C. and Mary Kaye Fort Family Fund of the Greater St. Louis Community Foundation and St. Louis Social Venture Partners, intends to bring that total to $150,000 by donating an additional $75,000. Other sources will match these donations by contributing an additional $150,000. The funding will go to Arch Grants, the global business plan startup competition providing capital to early stage ventures, to specifically fund education reform startups.
According to Sarah Spear (pictured top, right), Executive Director of Arch Grants, the education reform startups who will be funded by these new contributions will go through the same process that other Arch Grants applicants go through. "When we talk about education reform startups, we are targeting education entrepreneurs. These can be teachers or people with new ides about how technology can be used to change education. These startups can can be technology-based or not, but the same rules of Arch Grants apply," notes Spear.
Startups applying for Arch Grants in the education reform category will be evaluated by a team of leaders in the education reform industry, including Kelly Garrett, the Executive Director of KIPP St. Louis. KIPP, short for the Knowledge Is Power Program, is a national network of free, open-enrollment, college-preparatory public schools dedicated to preparing students in underserved communities for success in college and in life. KIPP St. Louis opened its first school in 2009 with the support of Washington University in St. Louis. The school, known as KIPP Inspire Academy (KIA), has grown from 80 fifth graders to 330 students in grades five through eight. Garrett has an MBA from Harvard Business School, and began his career in teaching with Teach For America. Since then, he has become a rising star in the education reform industry, as Executive Director at the Rainwater Charitable Foundation, and as the Director of Business Development for KC Distance Learning where he helped found iQ Academies.
The city of St. Louis is excited to increase the talent pool of education entrepreneurs with this new funding opportunity by recruiting reform-minded school leaders from across the country to work in St. Louis. "The Regional Business Council is committed to ramping up our efforts to bring in talented entrepreneurs focused on educational reform," states Kathy Osborn, Executive Director of the Regional Business Council. "This initiative complements the RBC's and Social Venture Partner's ongoing commitment to transformational educational reform. Arch Grants is the perfect vehicle to do this."
Education reform entrepreneurs who are interested in applying for an Arch Grant are encouraged to learn more on the initiative's website.