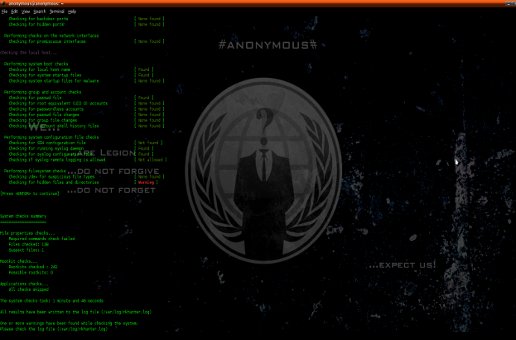 An Ubuntu-based operating system known Anonymous OS and purported to contain hacking tools is likely to contain trojans, and may have little relation to the loose-knit hacker collective, say Anonymous spokespersons.
"Don't use Anonymous OS, we don't know anything about it and can't vouch for it," tweeted @YourAnonNews, a prominent Anonymous-affiliated social media mouthpiece.
That authoritative voice rubbed some commenters the wrong way.
"Bit contradicting when Anonymous claims to be sans leaders, but yet should somehow know what is or isn't them," replied Twitter user @CloudyOne.
The operating system, which may have been built using Ubuntu Live CD Creator, was made available this week on a Tumblr account. The page administrator fired back today, posting Rootkit Hunter logs they claim will exonerate the software.
Sophos senior technology consultant Graham Cluley warned against downloading or installing the operating system, which the security developer Sophos has not analyzed at this time. Users would be "crazy to trust it," he wrote.
"Anonymous OS isn't a threat to the average guy in the street or to office workers, the only people who might be impacted by it are those who are foolish enough to knowingly install unknown software onto their computers," Cluley wrote. "Nevertheless, our advice to folks is clear — be wary!"
Cluley also speculated that offering free software to amateur hackers that secretly tracked their activity could be a brash tactic by law enforcement to identify users affiliated with an ongoing investigation, quipping that such a strategy sounds like something out of a cybercrime thriller novel.
The rogue operating system is not the amorphous group's only public relations challenge. Computerworld's Taylor Armerding speculates that arrested LulzSec leader and FBI informant Hector "Sabu" Monsegur may have been instructed to supply controversial whistle blower website WikiLeaks with the stolen cache of Stratfor emails in order to build a case against Julian Assange.
Confusingly, though, that very cache of emails, the veracity of which is now up for debate if they passed through federal hands prior to their release, contained a reference to a sealed indictment against Assange.
Anonymous, which originated on the cultish photo sharing website 4chan, has risen to prominence during the past year due to a string of high-profile online mischief that has drawn on energy surrounding Occupy Wall Street and related protest movements.