When it comes to vending machines, Japan has it locked down. Not only can you buy survival basics, but you can also pick up a few staples, including fresh eggs, neckties, sneakers, and beer. However, the story is a little different in America.
American vending machines have, until recently, remained the go-to craving-quencher for students and office workers. Although some vending companies have started offering bottled water and baby carrots, most carry an assortment of junk food and soda.
Until now, that is. American vending machines are getting a geek-over.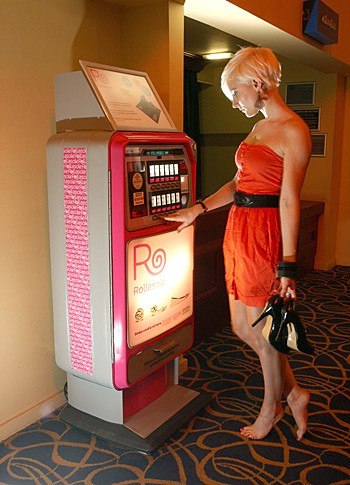 Entrepreneurs are changing the way we purchase products from inside vending machines. By exploring alternative models of exchanging goods, new business models are shaping how human-machine interaction can help generate sales in places where cashiers don't make sense.
Companies like Rollasole, for example, are tapping the late night crowd by selling ballet flats to women who are sick of teetering around in high heels at 3am. The flats sell for $19.95 from vending machines strategically placed outside of nightclub bathrooms.
The flats are called "Rollasoles" because they roll up right into handbags. The UK-based company has sold 5,000 pairs from six machines in the U.S. since its American launch in August. In the UK, the company has dispensed 25,000 pairs.
While some companies are selling alternative products, others are exploring new business models. Lina Fenequito of Good World Media created the Swap-o-matic, a traveling vending machine that is more experimental art project than cash cow. Instead of feeding money into the vending machine, you pay by swiping a thing that you don't want for a thing you do want.
[vimeo id="14993012″ width="600″ height="350″]
Of course, hardcore geeks are all over the reinvention of vending machines too. Marchon3D won a 2012 American Package Design Award at the Consumer Electronics Show for its in-theater launch of EX3D. EX3D enables customers to purchase 3D glasses in movie theaters where, you guessed it, 3D movies are showing.
Coinstar, the company behind DVD vending machine Redbox, is currently reimagining vending machines as a way for customers to buy anything, including iPhones, coffee, and clothing.
Although vending machines disappeared from 134,00 locations between 2007 and 2010, some entrepreneurs are betting that the cultural norms in America have changed enough for consumers to prefer basic interactions with machines over standing in line to make a basic purchase from a human cashier. Thanks to the ecommerce boom, American consumers are demanding speedy and convenient transactions, something that the next generation of vending machines just might be able to supply.