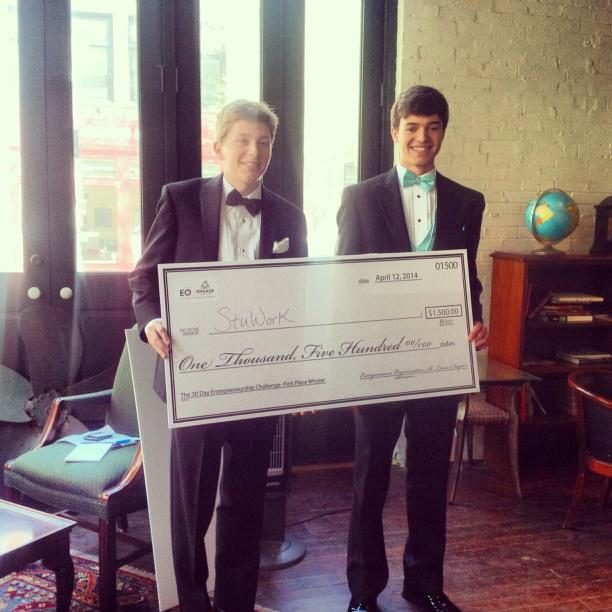 Andrew McDowell and Brendan Hart are two everyday seniors at Mary Institute Country Day School (MICDS) who often deal with an everyday teenage problem.
"As high schoolers, we often want to go out on the weekends and whatnot, but we are also pretty broke," Hart said. "Yet, having time for a (steady) job…that is pretty much impossible for many with schoolwork and extracurriculars."
To solve this, the two founded StuWorks, a marketplace where students and adult members of a school community come together to agree to job opportunities, ranging from yard work to baby sitting and even tech support. This allows students to earn money without making a commitment to a job, while allowing adults to find workers in a vetted online community.
This idea won the students $1,500, among other prizes, at the Final Showcase of the first-ever 30 Day Entrepreneurship Challenge, which took place Saturday afternoon at Lab1500 downtown. The event was cohosted by Entrepreneur's Organization of St. Louis, Arch Grants, Lab1500 and Independent Youth.
The goal of the challenge was to allow high school students to create an innovative, feasible business idea that is ready for launch within 30 days. The teams of students were paired with a partner company from EO St. Louis for mentorship.  At the end of the 30 days, judges selected one team from each participating high school to present their company plans at the Final Showcase.
The seven schools participating in the challenge were Clyde C. Miller Academy, Gateway STEM High School, MICDS, Parkway South High School, Ritenour High School, Rosati-Kain High School and Ursuline Academy. Each school fielded several teams of students, and a panel of judges then picked one team from each school to present their company at the Final Showcase.
At the finals, each company had five minutes to pitch their company's business plan to seven judges. Following the initial pitch, the judges spent five additional minutes grilling the teams on their business plans. The questions ranged from their financial projections to operations. Once all seven companies had a chance to make their presentation, the judges deliberated behind closed doors who would win the competition.
Tanya Hamilton, the founder and executive director of Independent Youth and the coordinator of the event, called the contest extremely close, noting half-jokingly she "had to leave the room due to the intensity."
Hamilton encouraged all the students to continue with their businesses. McDowell and Hart will launch their site beginning this summer, with Brian Johannes, an MICDS economics teacher who helped the two students, eager to see if "this company really has some legs to it." However, other plans may get in the way. McDowell will attend the University of Central Florida in the fall, while Hart will attend the University of Michigan. Both students plan to major in engineering.
Rosati-Kain senior Caroline Lipic and sophomore Rebecca Mulvaney were the runner-up team with their company Sealed Lips. The company sells lip balm and 20% of the proceeds go to Queen of Peace Center, a St. Louis-based foundation that provides assistance for women struggling with addiction and their children.
"I have always had an interest in entrepreneurship, so when the opportunity to do this type of program came up, I definitely said yes," Lipic said, emphasizing that she also wanted to create a company that makes a positive impact on the community.
For their second-place finish, Lipic and Mulvaney won $500.  Lipic said the $500 will go back into the business.
As for the winners, Hart conceded that some of their new-found wealth will go into typical high school dining fare: "McDonalds and Smoothie King."
Yet McDowell interjected: "Most of the money will be going back into the business."