We wrote previously about Alex Banayan, who we believed at the time to be the youngest active venture capitalist, at 19 years of age. But Banayan may soon need to step aside: a 17-year old Ohio State student is on track to claim the title – and soon.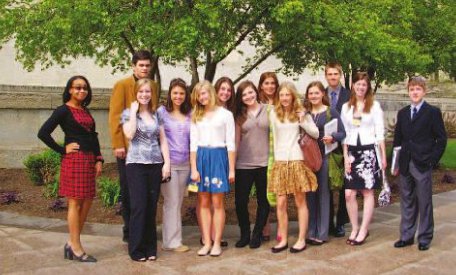 Image: Noah Porschart (farthest right) on a school trip to the Ohio Statehouse (The Wellington Magazine.)
Noah Porschart is currently an intern at the Ohio-based Fast Switch Ventures, where he has become heavily involved with the firm's investment software, andis likely to become an associate or qualified to invest private equity late this summer. Legally, though, he will need to turn 18 (his birthday is on Sept. 2) before he can become an accredited investor.
"I have about three years of equities trading under my belt so I feel I am ready to take on this new role," Porschart said. "I have also become quite familiar with the VC process."
Benjamin Lagemann, vice president of new ventures for Fast Switch, confirmed that it appears "quite likely" Porschart will become either an associate or qualified accredited investor at the outfit following his birthday.
"Noah is a very talented young man with tremendous potential, maturity and natural aptitude for investing," Lagemann said. "We've given him a lot of responsibility and he has performed quite well on angel stage IT investments ranging from social apps and search monetization to financial analysis and content management."
Lagemann and Porschart both attended The Wellington School, a private pre-kindergarten through grade 12 institution based in Columbus. Porschart's financial merits, though, seem to stand on their own – his annual return, he said, is around 1100 percent.
But it's not wealth – at least at this juncture – that's motivating his career.
"Investing is my passion," Porschart said. "I don't invest to get rich necessarily, I invest so that I can invest more, and experiment with different investment vehicles. Coming from a working class to lower class family, I have certainly improved upon my situation, and look forward to what the future holds for me."
Porschart hopes to transfer soon to Cornell.
Banayan, when he was made an associate at Alsop Louie Partners, was in turn upstaging Ernestine Fu, who had become a venture capitalist at the same firm while she was a sophomore at Stanford University.
Image via E*TRADE